Fight Hunger in the Akron Community
Food insecurity refers to the USDA's measure of lack of regular access to nutritional food for an active and healthy life. The food insecurity rate in Summit County is 16.2 percent of the total population, and the child food insecurity rate is 22.2 percent.

1 in 7 individuals in our area is food insecure. The fight to end hunger cannot be done alone. Let's help change that as we team up and support the Akron-Canton Regional Food Bank.
For our February Unified Promise 18 members of because I said I would Akron contributed to packing 30,190 pounds of meat and 10,000 pounds of oranges at the Akron- Canton Regional Food Bank! That is 34,092 meals!This food will be distributed to people in the surrounding eight counties by the end of the week -making a HUGE impact in our community!
Thanking our Troops: Care Packages for Veterans
There are 30 million veterans in the US, and over 1 million in Ohio alone. Our service men and women face many challenges as they reenter into civilian life. Veterans experience mental health disorders, substance use disorders, post-traumatic stress, and traumatic brain injury at disproportionate rates compared to their civilian counterparts. On average there are a total of 18-22 American veterans that commit suicide everyday. Thankfully they're are places for them to receive help, and when they are reminded that there are people that care for them and appreciate all the sacrifices they have made, things may be just a bit easier for them. Together as a Chapter we wanted to show them our appreciation and help make their lives a little easier. 
For our January Unified Promise 30 volunteers came together to assemble care packages for the veterans receiving treatment at the Akron Veteran Outpatient clinic. Volunteers hand crafted thank you cards and assembled packages containing items to make their lives easier and a bit brighter. This included playing cards, socks, lip balm, hand warmers, candy, toothbrushes and more! With the help of volunteers we were able to assemble 150 care packages that will be handed out to veterans as they visit the clinic! 
Enter your text here.
Give Warmth: Making Blankets for the Homeless
Seven hundred people experiencing or at risk of homelessness are killed from hypothermia annually in the United States. Forty-four percent of the nation's homeless are unsheltered. From the urban streets of our populated cities to the remote back-country of rural America, hypothermia - or subnormal temperature in the body - remains a leading, critical and preventable cause of injury and death among those experiencing homelessness. Together our Akron Chapter came together to do something to help these individuals. 
Over 42 Akron Chapter volunteers came together and made over 45 blankets!  All the blankets were donated to unsheltered homeless through the Akron Snow Angels, a nonprofit that organizes drop offs of essential items to those most in need and living unsheltered in the Akron community. Some of our volunteers also helped distribute the blankets as well!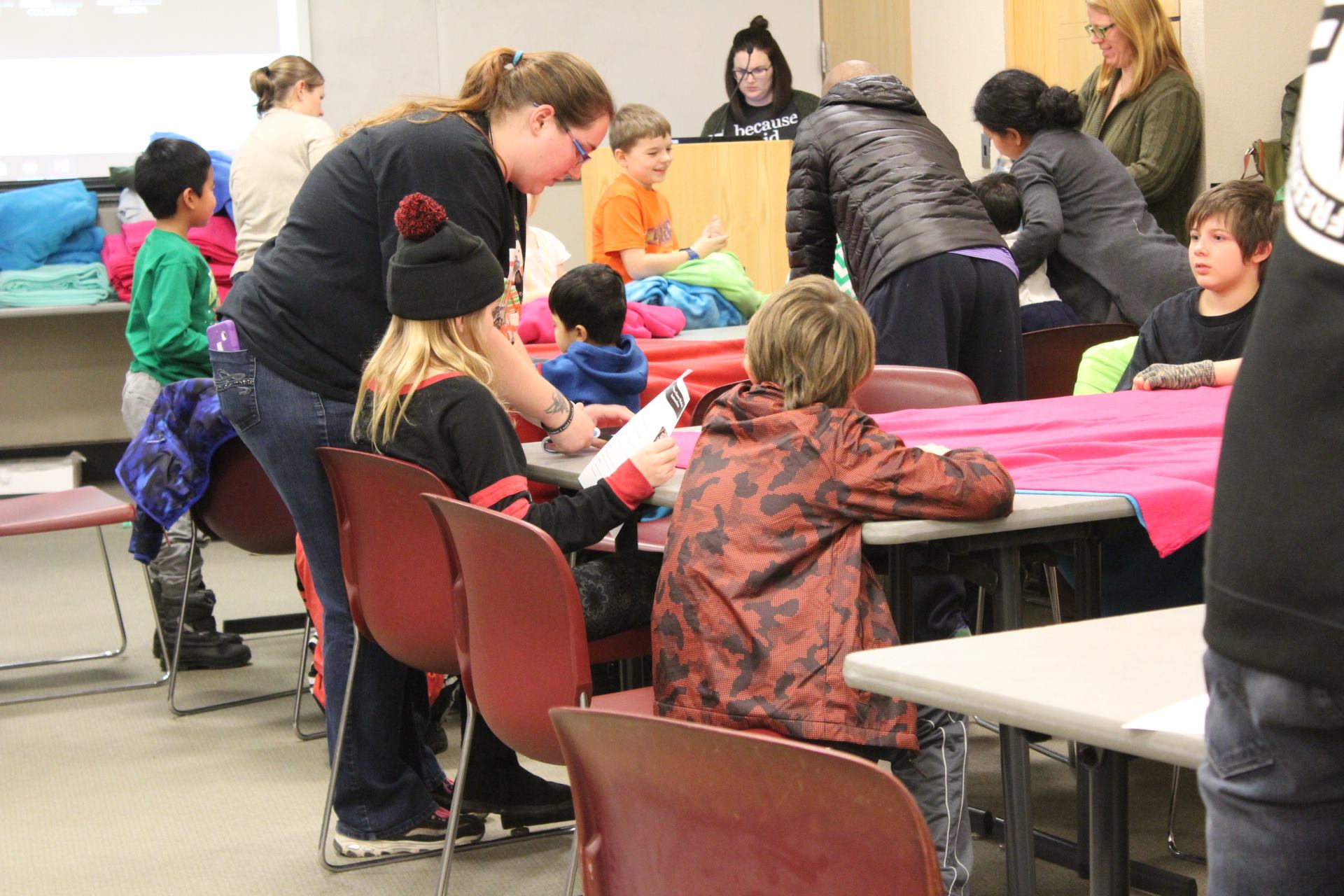 Falling into Friendship: Adult with Disability Fall Social
Adults with developmental disabilities rarely get to socialize with people outside of their immediate family. This contributes to a strong sense of loneliness and isolation. Because of this, activities where they can be around new and old friends are extremely important to their well-being. Together our Chapter spent a Saturday afternoon with individuals with developmental disabilities at the Community Habilitation Services. Together we enjoyed a day of fun fall activities, making new friends and memories.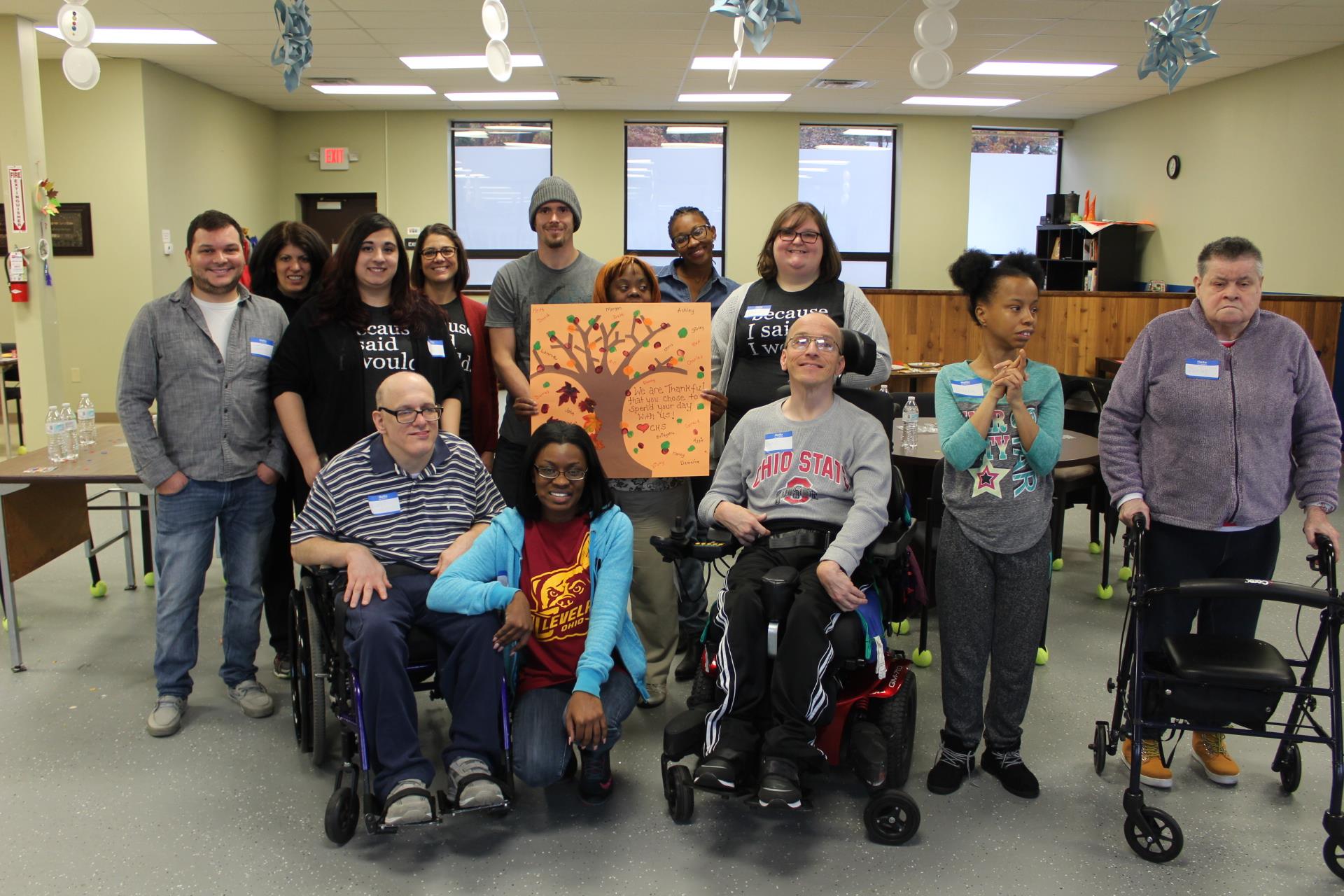 Cleaning Out Your Closet and Cupboards!
The average U.S. household has 300,000 things, from paper clips, clothing, ironing boards, canned goods and more. Additionally the average American throws away 65 pounds of clothing per year. Yet there are many people in need that could benefit from the items we no longer need, want or use. Together as a Chapter we hoped to do something to change that.... 
Because I said I would Akron Chapter hosted a VERY successful donation drive! We were so thankful for all of the gracious donations that we received to benefit local nonprofits in Akron! We collected everything from gently used clothing, books, toys, unopened canned goods and housewares! These donations were then sorted and donated to organizations in need. These organizations included The Battered Women's Shelter, ACCESS Women's Shelter, The Ronald McDonald House, Safe Landing Youth Shelter and more.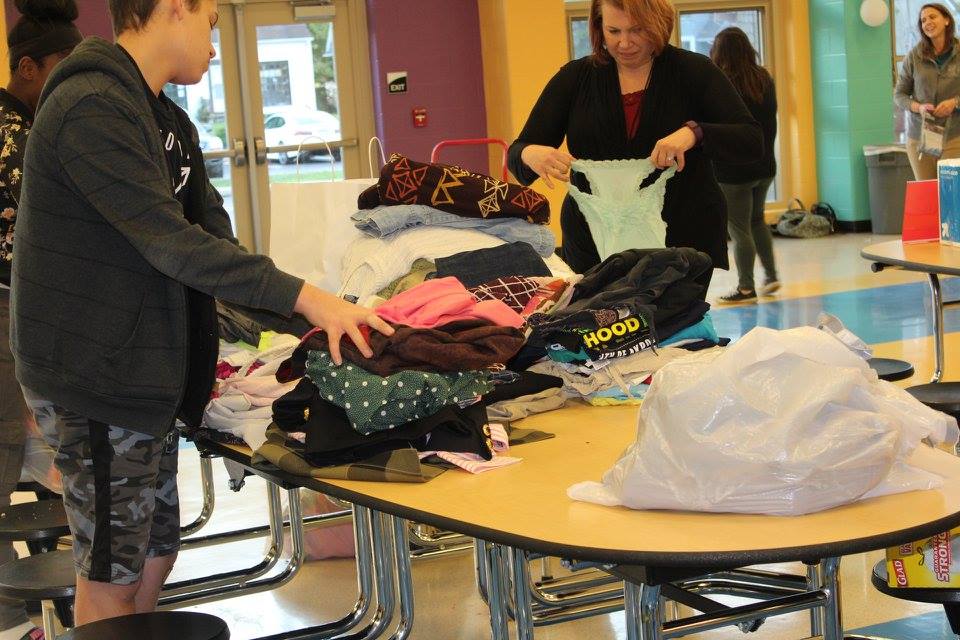 Crafting New Memories
More than 3 million children witness acts of domestic violence every year in their homes. Children who live through and suffer from domestic violence in their homes can suffer from Post Traumatic Stress Disorder. Additionally these young children are often ripped from their homes with nothing but the clothes on their back, leaving behind toys, pictures and all of their personal belongings. Positive socialization, and art therapy have been know to help children of domestic violence cope with their trauma. 
Together a group of 12 volunteers hosted a craft party for children staying at the Battered Women's Shelter of Summit and Medina County. Volunteers learned a lot while participating in a group training for working with children and residents staying at the shelter. After training,we invited the children to do two craft activities with us- making stuffed monsters out of gloves and creating picture frames with Polaroid photos! Some of the mothers joined us and helped their children. The sweetest moments were captured in polaroids and attached to their frames for them to keep! Afterwards we all enjoyed pizza with the children and moms, while admiring the wonderful frames and monsters their children made. We are so grateful for the opportunity to bring some fun and laughter to these families staying at the shelter. Due to strict confidentiality rules we were unable to take many photos but below are a few of volunteers who helped make a difference that day!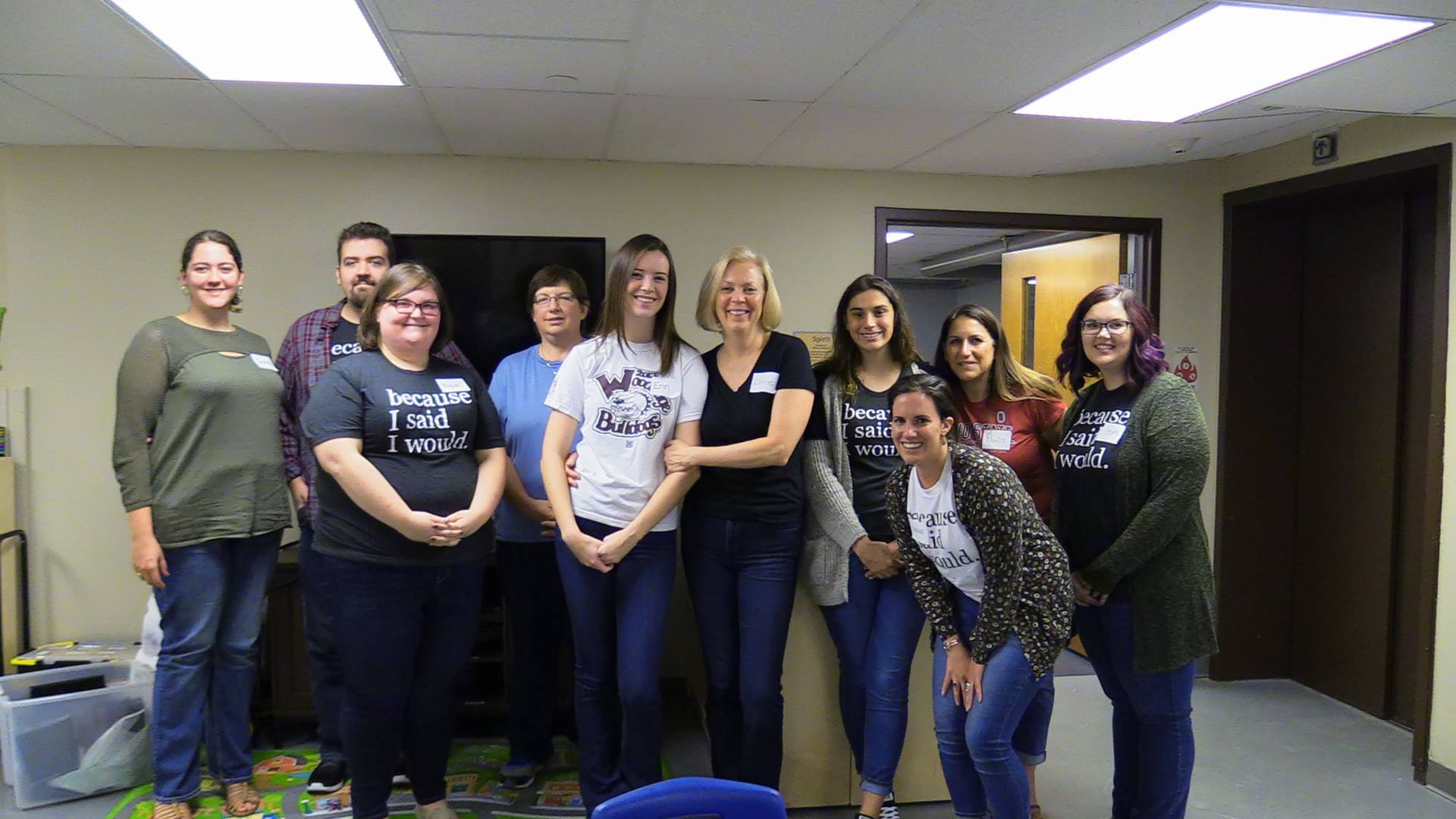 Painting a Better Picture for Alzheimer's
The Alzheimer's Association reported Ohio for having a total of 210,000 individuals, 65 and older, living with Alzheimer's in 2017; this statistic is expected to reach 250,000 by the year 2025. 

There is no cure for Alzheimer's. Losing your memory and the ability to do everyday things is hard for the individual as well as their loved ones. Memory care helps empowers seniors who have memory loss to stay active and engaged in daily activities as much as possible but what if something else could be done? Art therapy and painting has been shown to improve mood, increase activity and socialization as well as overall quality of life for those living with Alzheimer's. 
The Akron Chapter of because I said I would wanted to do something to help. Together we led a painting activity with patients at Arden Courts of Bath, who suffer from Alzheimer's or a Dementia related illness.
It was truly a rewarding experience and the residents were amazing to work with. We would like to say a special thanks to Polly and the staff at Arden Courts for helping lead the event, and helping us interact with the residents. They did a wonderful job with the painting projects and enjoyed the ice cream social even more!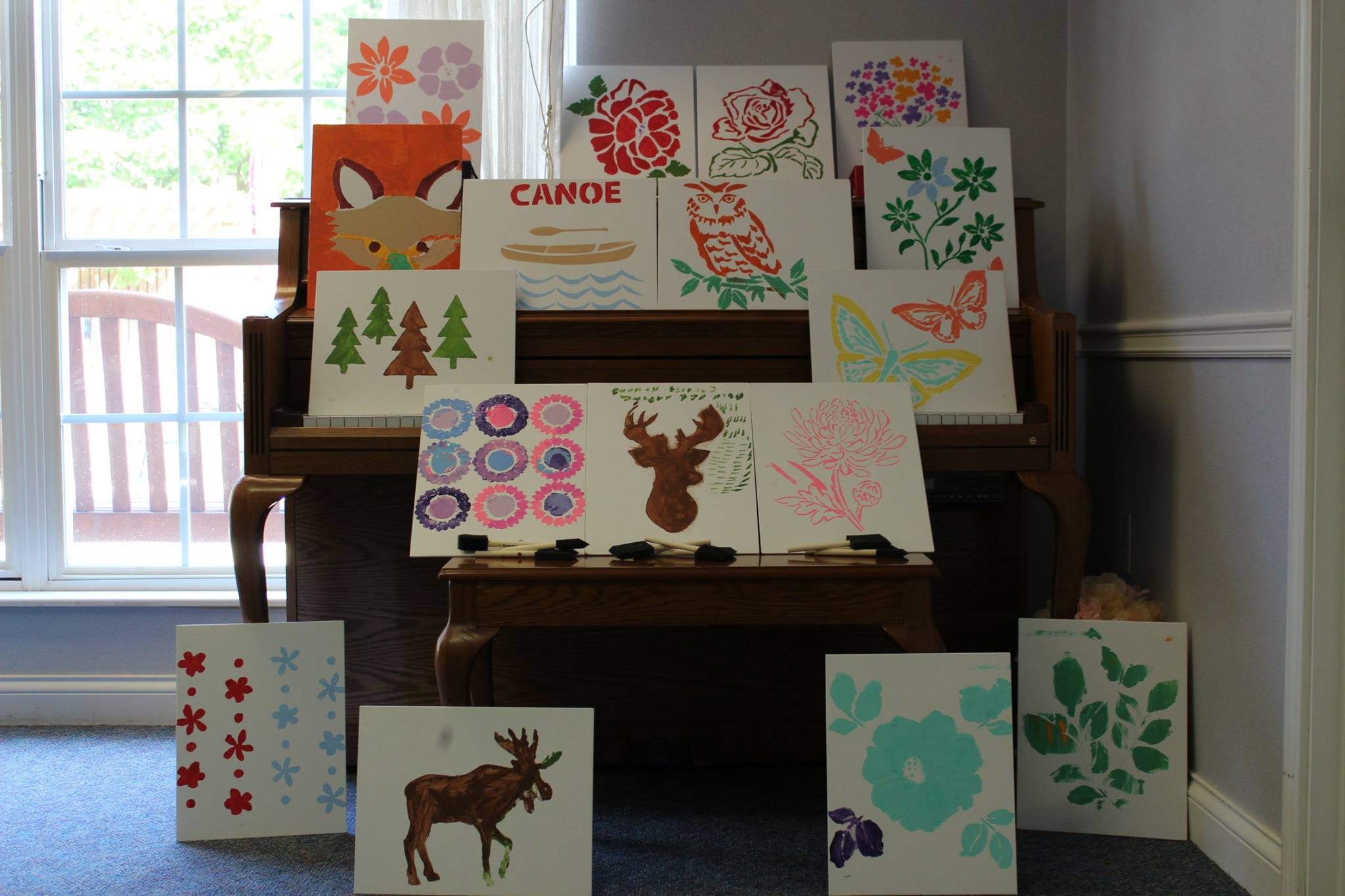 Feeding the Future: Serving a Summer Meal for Kids
In 2015 close to 22 million kids in America depended on school lunch programs. However, in the summer months, food insecurity increases and the access to nutritious meals decrease.

The Akron community stands with a 65.6% poverty rate. Many kids struggle with getting enough to eat in the summer when their school meals disappear. Federal nutrition programs that operate during the summer months only reach a fraction of kids in need and sadly are under utilized by the community. These meals are also only served Monday through Friday, leaving the weekend days as a challenge for some families. Together the Akron Chapter did something to help make a difference.
Members of the Akron Chapter of because I said I would made and handed out 100 nutritious lunches to families at Perkins Woods Pool, an area with a high poverty rate. While doing so we also promoted and handed out information on the Summer Lunch Program to help extend it's reach and impact in our community.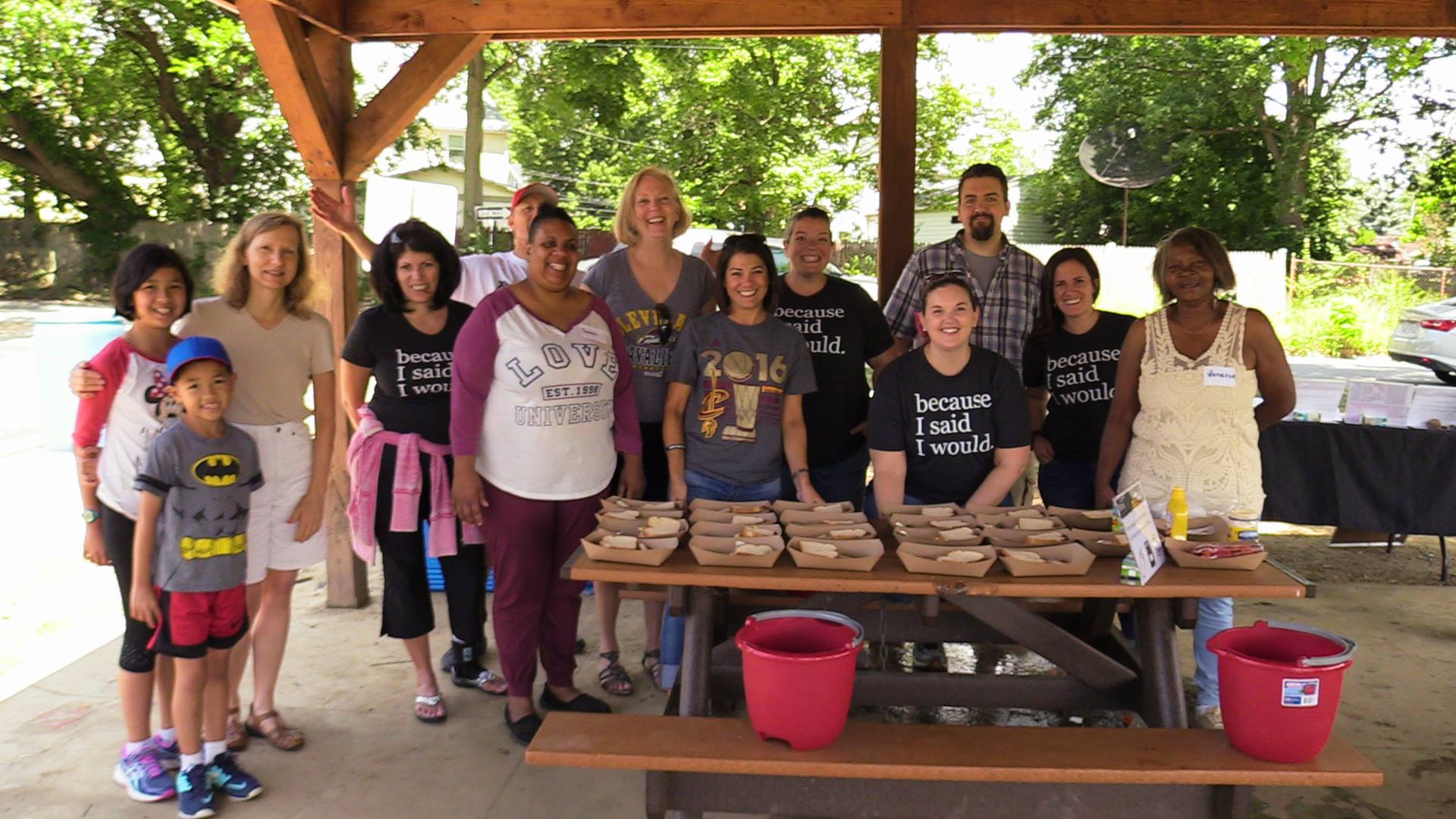 A Place to Lay Your Head: Making Pillows for the Homeless
This month's promise was held at Access, a homeless shelter for women and children in the Akron area. Each year, 500 women and kids come through Access's doors seeking shelter, counseling and other resources to help them escape an impoverished or dangerous situation. This means the shelter needs 500 pillows, blankets, sheets etc. for these families to sleep with, as well as take with them to their new homes once their time at Access is complete.

We has 29 volunteers come together and make 68 pillows this past weekend. This puts a good dent in the over all number of donations Access needs annually. Thank you again to everyone who donated their time and skill to help this great cause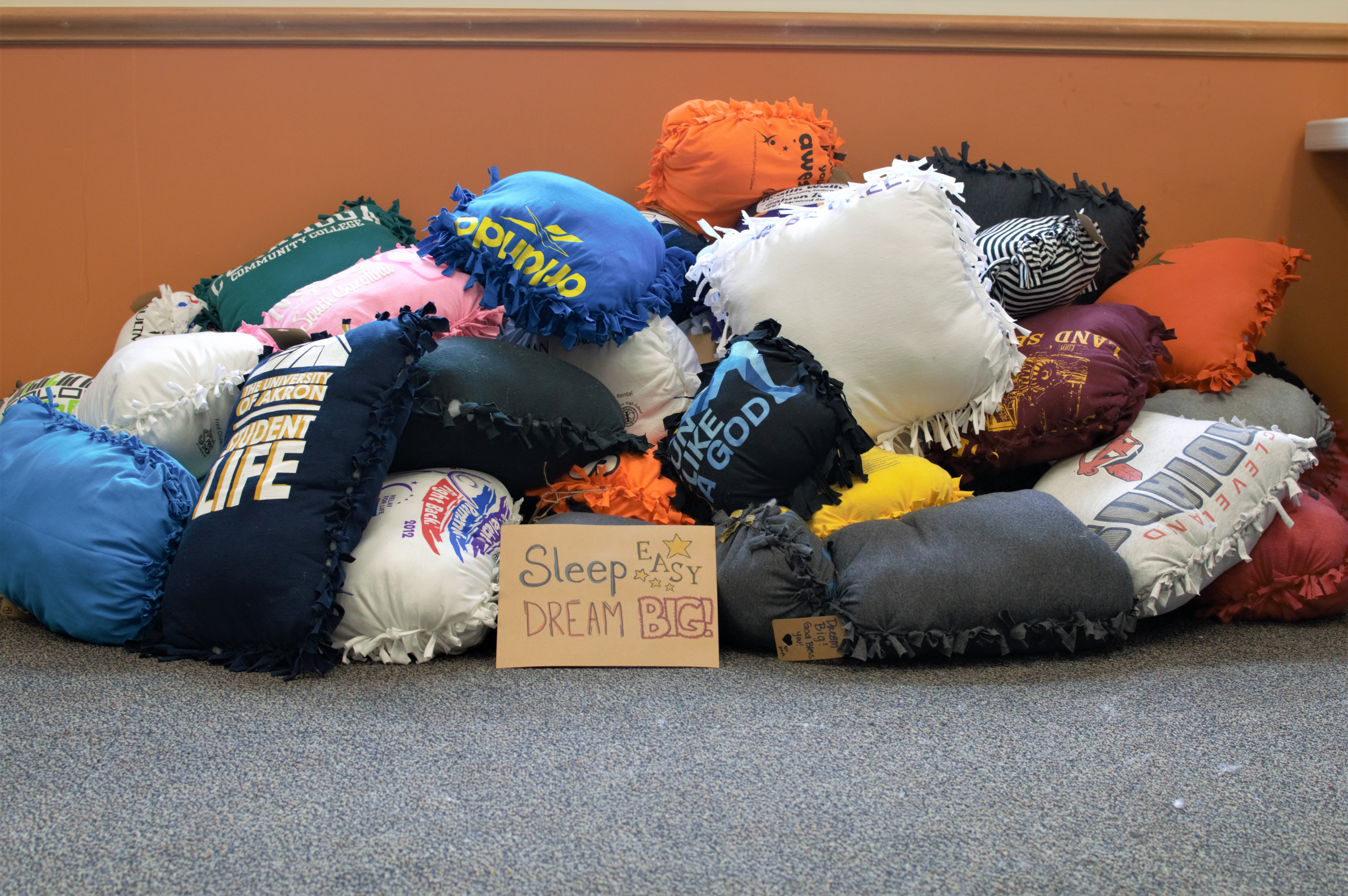 Planting Trees in Memory or Celebration
For this Unified Promise, the goal was to help the Cuyahoga Valley National Park to help plant over 400 trees to stabilize the local ecosystem. With the help of our 17 volunteers and the other groups participating we were able to plant all 400 of those trees! In addition to helping the local ecosystem, our members were able to plant those trees in memory of a loved one. Volunteers created small notes to plant with their trees, and then recorded the trees' coordinates so they can visit in the future as well as share with family and friends. The day was truly special and the legacy we left behind for our loved ones will grow throughout the years and volunteers and their families will always have the opportunity to go back and visit their trees.
A special thank you to the Cuyahoga Valley National Park for having us, and letting us make this Unified Promise such a personal one.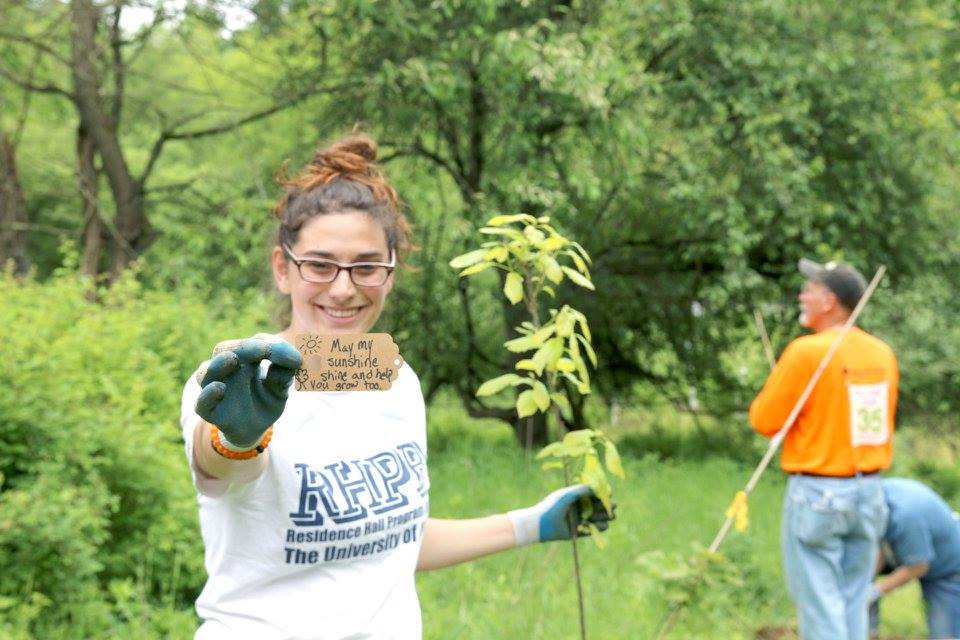 Twenty Bags Cleaner this Earth Day
Cleaning up the community is not just about picking up trash, it's about preventing it from happening. Cleaning up trash makes people less likely to litter there in the future. This Earth Day, nearly twenty volunteers came together to pick up trash along the Ohio & Erie National Heritage Canalway . Trash items were found large and small - a tea cup, shoe, clothing items, cigarettes, utensils.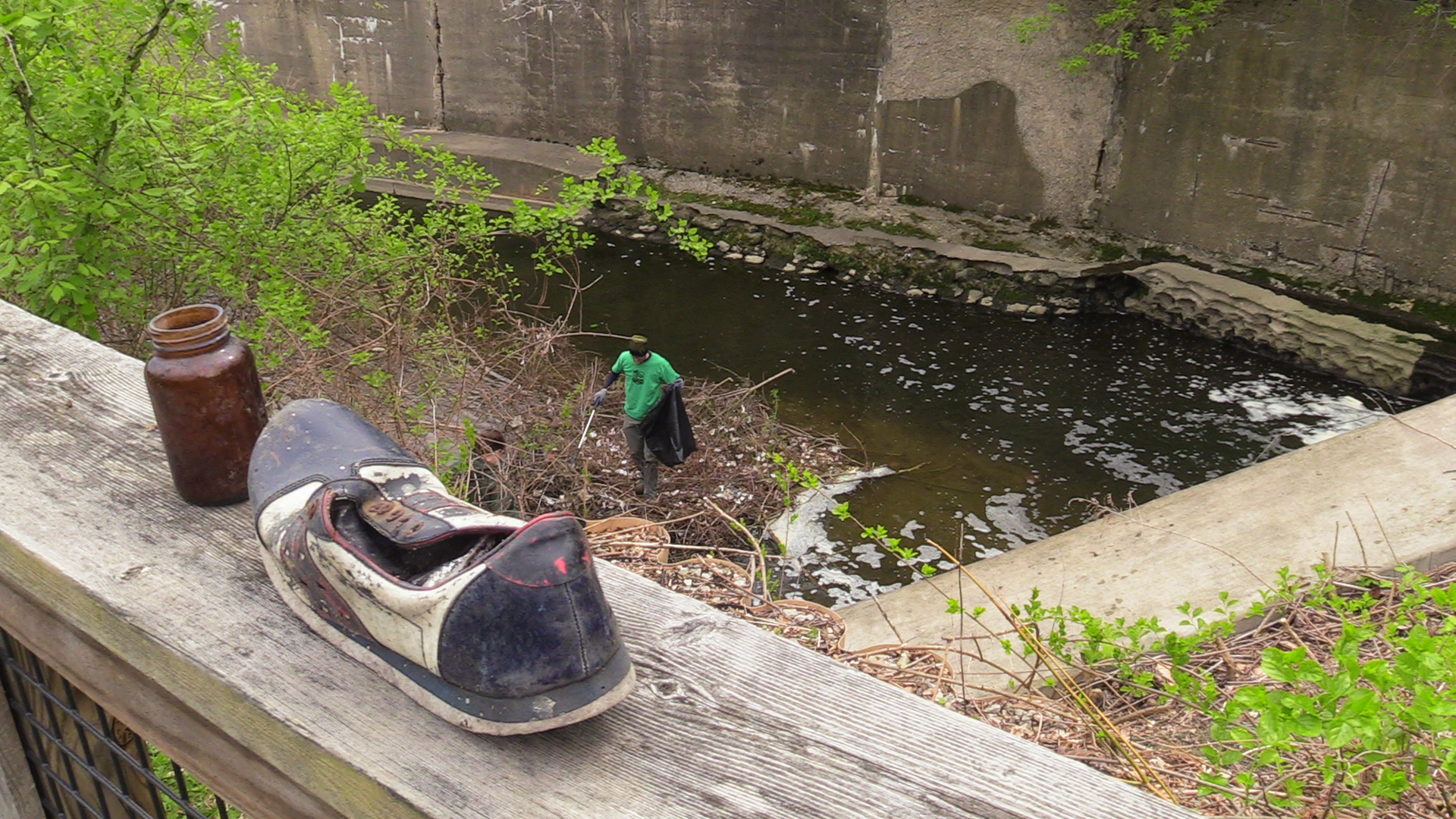 One volunteer went one step further, venturing on the "trash island" on the river. His commitment reminds us of an old saying:
"I wondered why somebody didn't do something. Then I realized that I am somebody."
Thanks to everyone that participated and to Don at Cascade Locks Park and Mustill Store Museum for giving us the opportunity do our small part!
Feeding People and Fighting Hunger
"If you can't feed a hundred people, then feed just one." -Mother Teresa
On February 11th, we held our February Unified Promise at the Akron-Canton Regional FoodBank. With 1 in 7 individuals in the Akron area classified as food insecure, our help to fight hunger was needed.

We had a great turnout with 13 volunteers in attendance. Together we sorted, inspected, and repackaged donated food for 3 hours alongside other local volunteers, sorting 30,656 pounds of food to produce 25,546 meals total. The time we gave helped people struggling with hunger in our community, each and every day.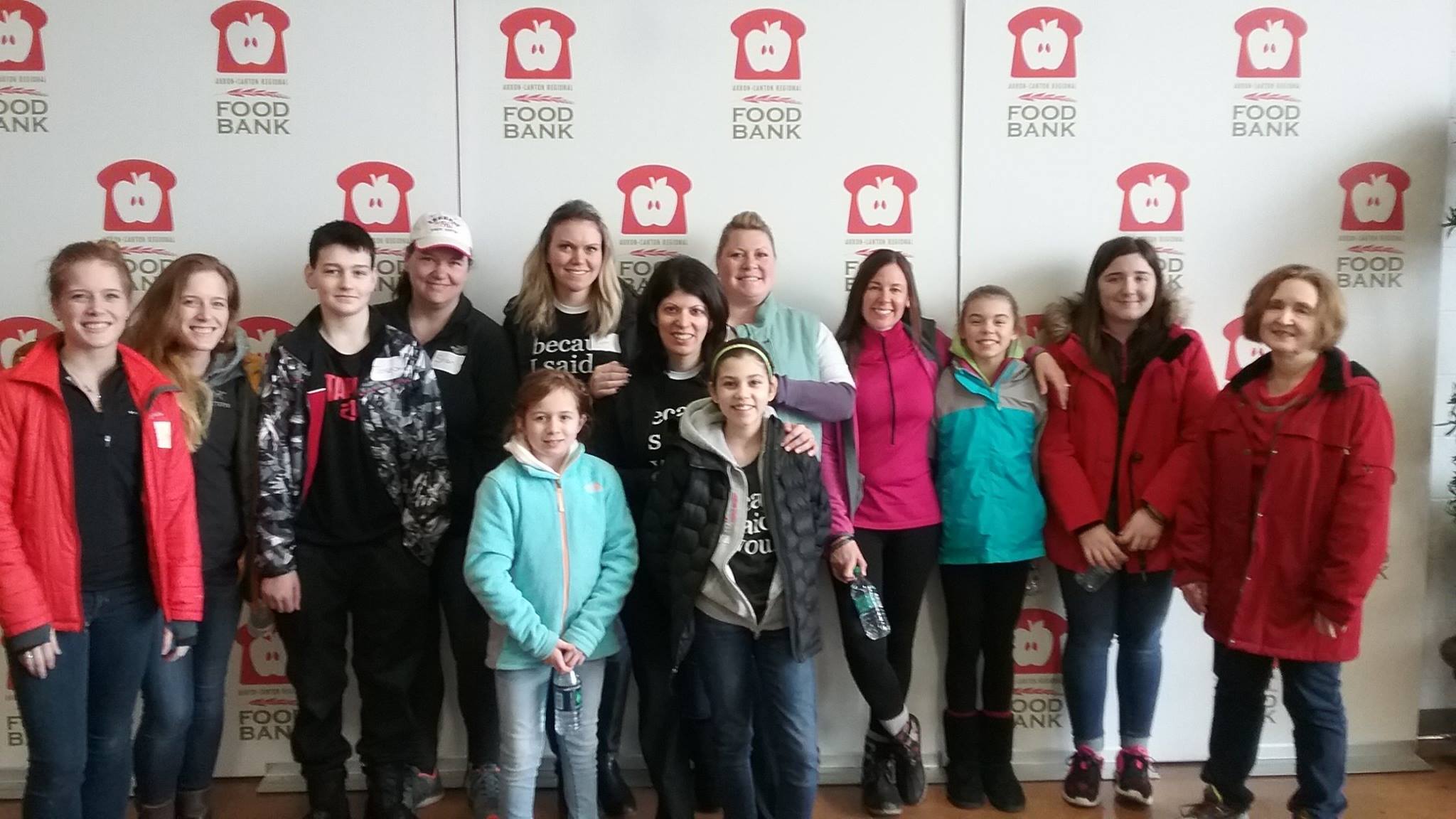 A big thank you to all of our volunteers who attended both young and young-at-heart. A special thank you to the Akron-Canton Regional Foodbank for working with us, and for all the good they do in our community. 
Deleting Blood Cancer: Bone Marrow Registration Event
Every four minutes someone in the United States is diagnosed with a blood cancer like leukemia. For many, their only hope for a cure is a bone marrow transplant. It only takes four minute to register to potentially save a life! 
For our January Unified Promise, we hosted a Bone Marrow Registration table at the University of Akron. Six of our Chapter members encouraged people to swab their cheeks and fill out the paperwork for this important lifesaving cause, promising to donate bone marrow if it is determined they are a match for someone in need. We had thirty people register as a result of this Unified Promise. 
This Unified Promise was inspired by Sam and Alex Kimura, two girls who sold their cars, bought a van and toured the country trying to save lives through this registry. See their story HERE.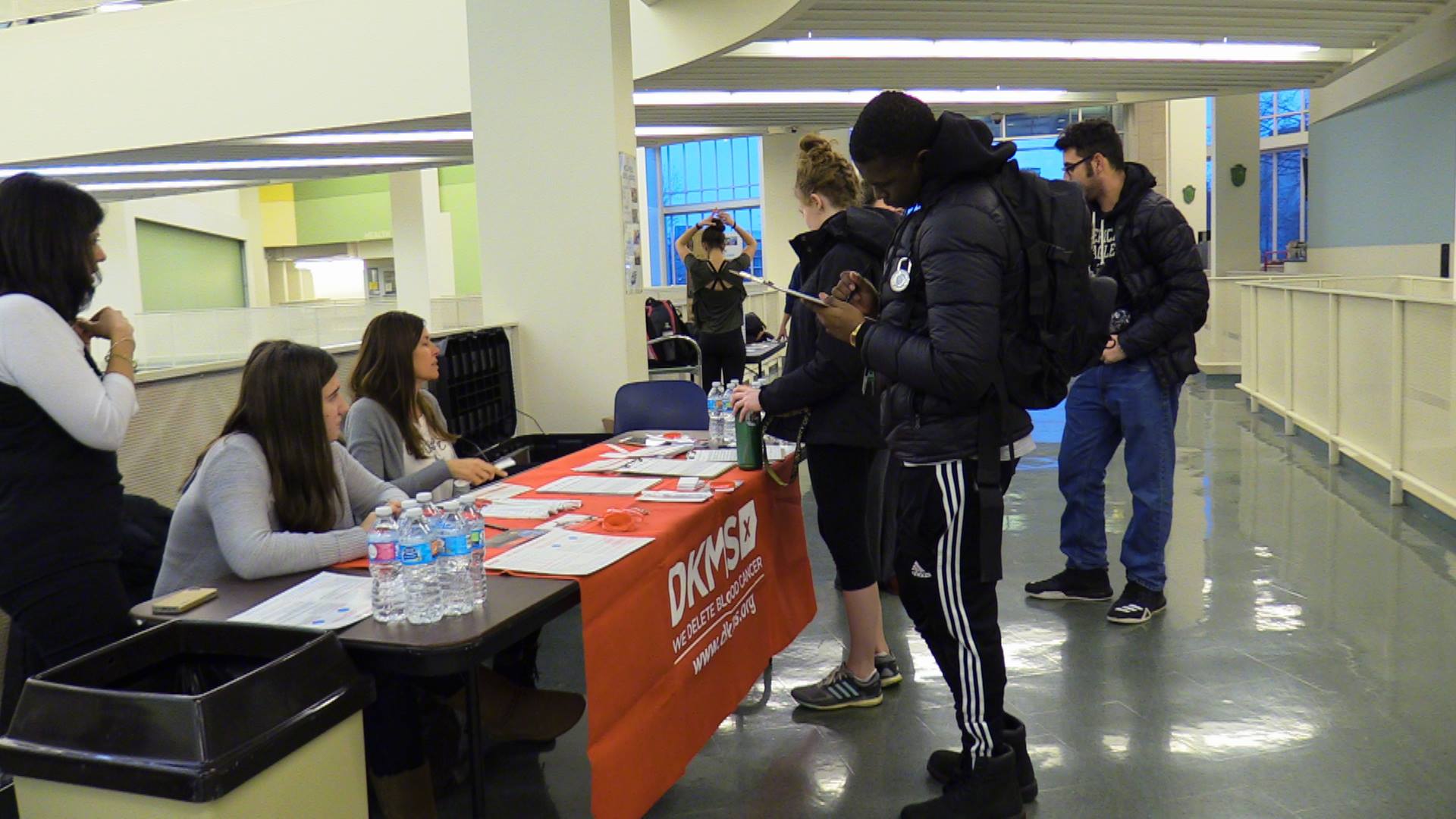 Donation Sorting: Welcoming Refugees in their New Home
Refugee children and families have lost everything they know, love, and need to survive and thrive. While the reasons and the regions may vary, the story and desperation are the same. All refugees are seeking safety, freedom, and the chance to reclaim futures for themselves and their families.

For our December Unified Promise, we had the opportunity to sort Welcome Kits items. Welcome Kits provide the basic household items they need for their new start in a place of safety.
Our Unified Promise was in partnership with the nonprofit organization, World Relief Akron. They strive to provide opportunities to help the most vulnerable people and transform economically, socially, and spiritually. 

World Relief Akron began serving refugees in Feb. of 2015. Their first family arrived in early April of the same year, and they continue to prepare for additional families in the coming months. They anticipate welcoming 170 refugees from Nepal, Bhutan, Burma, the Congo and Syria in the calendar year. From the time of arrival at the Akron-Canton airport, refugees receive support from World Relief up to their first 90 to 120 days in the U.S.
Join today!
Make a difference in your community!